A Smart thermostat allows homeowners to access their thermostats with the use of internet-enabled technology. Using devices such as smartphones or tablets to monitor their temperature and energy use gives homeowners the opportunity to maximize their efficiency and comfort while having the convenience of having access at their fingertips.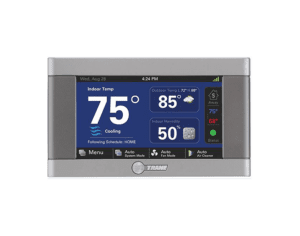 Award-winning devices such as the Trane ComfortLink™ II XL1050 , Trane XL824, and many others are digital, wireless devices that are compatible with most standard central air units, including trane products. Smart thermostats are equipped with many unique features that you cannot get with a traditional thermostat. These smart devices allow users to schedule temperatures days in advance and allows homeowners to have different temperature settings in each room or floor.
For more information on smart thermostats and their installation, feel free to call us at (210) 602-7181 to make an appointment with your Air Texas Experts we're ready to handle all your HVAC needs. We proudly serve the San Antonio area, including Converse, Cibolo, Seguin, Schertz, and many others.
Source:https://www.trane.com/residential/en/products/nexia-home-automation.html